Kyocera Mannheim Campus Nord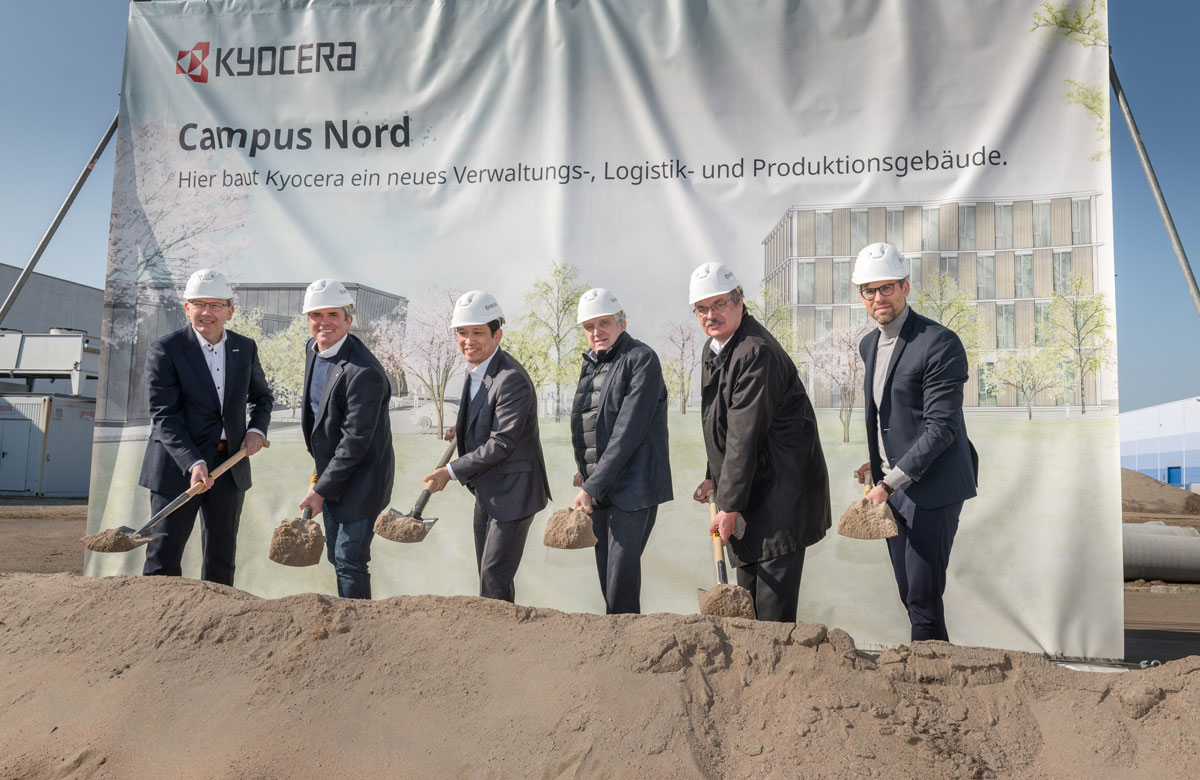 KYOCERA Fineceramics Europe GmbH is expanding its presence at the European headquarters of the ceramics division in Mannheim with a comprehensive investment of around 20 million euros. The company is planning to build a new administration centre as well as a logistics and production hall in order to continue its growth. In addition, part of the previous company site, which houses energy-intensive buildings, has been sold to a real estate investor who will locate new companies on the site.
The official ground-breaking ceremony took place today and was attended by many guests, including the First Mayor of the City of Mannheim Christian Specht. Dr. Carsten Russner, President of KYOCERA Fineceramics Europe, said in his welcoming speech: "Our goal is to strengthen Kyocera's high-performance ceramics business in the long term, which is why the signs continue to point to expansion. Externally, these are the construction of the administration, production and logistics building here in Mannheim. But extensive construction work is also planned in Selb, the company's second location. We are in the fortunate position that the high quality of our products and our capacity for innovation are well received on the market. Therefore, the new buildings in Mannheim and Selb are also urgently needed to be able to satisfy the demand for our products."
Armin Kayser, Executive Vice President of KYOCERA Fineceramics Europe GmbH, presented the planned construction project. "With the construction of Campus North, Kyocera is underlining its regional roots. We are committed to the Rhine-Neckar metropolitan region and are therefore expanding our presence in Mannheim even further. In our long corporate history, which goes back to 1863 with predecessor companies, we are now reaching another milestone. The new building will also benefit our employees and increase our attractiveness as an employer in the region. Due to the high customer demand, we are continuing to expand, which is why we are constantly looking for new employees," he explained.
The First Mayor of the City of Mannheim Christian Specht delivered the greeting of the City of Mannheim. "We are very pleased about the decision of KYOCERA Fineceramics Europe GmbH to expand its headquarters in Mannheim. This creates and secures jobs - 40 new jobs are still planned for this year, so that 330 people will work at this location in the future," stated First Mayor Christian Specht and continued: "The fact that a world-leading ceramics and technology company has made this location decision is a commitment to Mannheim and the entire Rhine-Neckar metropolitan region and once again underlines our importance as a production and development location. Mannheim's excellent geographical and infrastructural location with its numerous transport routes on roads, railways and waterways benefits industry, production and trade."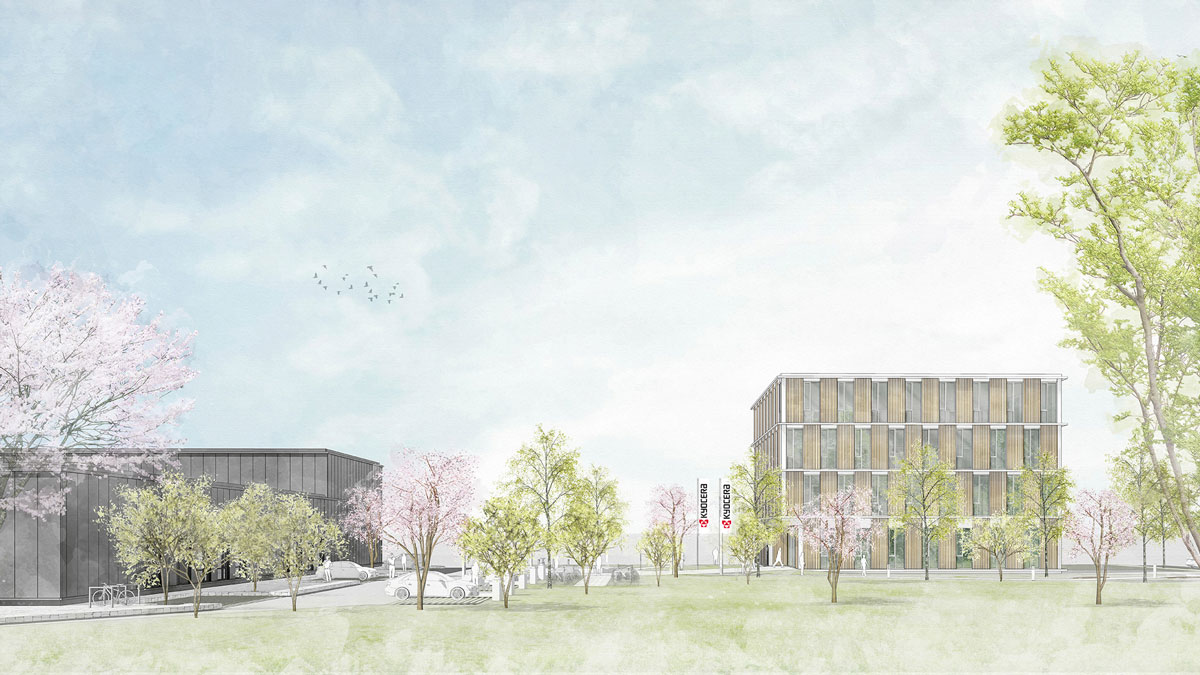 Building in ecological and economic balance
The high-performance ceramics developer and manufacturer has set itself the goal of harmonising ecology and economy and is committed to environmental management. In the past, Kyocera has already demonstrated how important it is for the company to be committed to environmental issues. Accordingly, it has been selected for the Dow Jones Sustainability Indices, among others. In addition, Kyocera plans to reduce its own greenhouse gas emissions by 46 percent and to increase the use of renewable energies by a factor of 20 by 2031 at the corporate level. The campus contributes to these ambitious goals. It is being built according to ecological principles and has a direct road connection, a modern infrastructure and an attractive green area with terraces for the employees.
Key data of the project
The project comprises a new production and logistics building and a barrier-free administration building. Both new buildings cover about 2,300 m² each and are largely built with solid timber walls. The roof surfaces are extensively greened and largely equipped with photovoltaic modules. In addition, the infrastructure will be expanded to include a separate electricity, water and sewage supply. In future, the heating system and cooling will be operated with the waste heat from the sintering furnaces.
Attractive employer in the metropolitan region
KYOCERA Fineceramics Europe GmbH offers attractive conditions and development opportunities in a highly dynamic high-tech company and is regarded as an attractive employer in the Mannheim metropolitan region. Due to the company's expansion strategy, numerous vacancies are advertised on the website's career portal.